This section of the site offers information on Australian silver coins, including new releases, coin specifications and coin images. Most of the information and news articles here focus on modern silver coins produced by either the Perth Mint or Royal Australian Mint, although there is sampling of older coins as well. Australian silver coins covered include commemorative, special collector issues and bullion coins.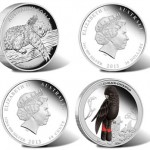 Five new coin products from The Perth Mint of Australia are making their way into coin collectors' portfolios. Two are new editions to 2012-dated coins while remaining items are early launches of 2013 strikes. All are 99.9% pure silver with limited mintages. On the reverse of one offering is the familiar koala but the others […]
The Australia Silver Coin Calculator lets you determine the value of silver within circulating coins quickly and easily. Simply enter the quantity...
The table of values are for Australian coins that contain silver. The prices listed represent the value of silver within the coin, or their melt values...