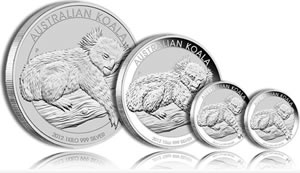 The Perth Mint of Australia has announced that the 2012 Australian Koala Silver Bullion Coins will make their debut beginning on November 1, 2011. Each coin is struck from .999 fine silver and features a new reverse design complete with the image of the iconic marsupial.
As is standard for the series, the new strikes will be available in four different sizes including 1/2 ounce, 1 ounce, 10 ounce and 1 kilo. No initial mintage cap is in place for any of the four coins with their final mintages to be announced when the 2013 koalas appear.
The new reverse design for the 2012 coins shows a sleeping adult koala with its arms draped around the branches of a tree. Reverse inscriptions include "AUSTRALIAN KOALA," "2012," "999 SILVER" and the size of the strike – 1 KILO," "10oz," "1oz" or "1/2oz."
These coins are considered legal tender of Australia despite the fact that their true worth lies in their melt value. Still, the strikes have face values of $30, $10, $1  and $.50, depending on which size coin is in question.
Once released, the new Koala Coins will be available through the Perth's distribution and coin dealer network with pricing based on the silver content of the strike, plus a small premium to cover minting, distribution and market costs.
Read more release information:
2012 Australian Koala Silver Coins Announced – SilverCoinsToday.com
Additional information:
Australian Koala Silver Bullion Coins – Australian Silver Coins Information Page