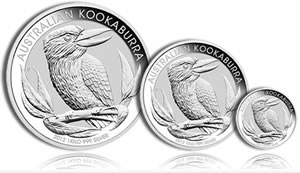 The Perth Mint of Australia is poised to release the newest installment of one of its most popular bullion series. Beginning on September 1, 2011, the Perth Mint will begin issuing the 2012 Australian Kookaburra Silver Bullion Coins.
The release of these coins continues the bullion series which dates back to 1990. Since those inaugural year issues, this series has come to be one of the favorites for many collectors and investors world-wide.
That popularity is mainly based on two facts. First, the Perth issues the coins with new reverses annually making each new strike completely different than the one issued the previous year. Second, a limited mintage is instituted on the most popular one ounce size  kookaburra coins giving them an automatic level of rarity not seen in some other world bullion series.
Shown on the reverse of the 2012 Kookaburra Silver Bullion Coin is the image of one of the kookaburras which are native to Australia. For this year's reverse, the bird is shown perched on the branch of a Eucalyptus tree. The head of the bird is looking over its left wing as its beak is shown slightly open.
The maximum mintage in place on the one ounce Kookaburra has been placed at 500,000, the same level used last year. The 10 ounce and 1 kilo Kookaburra Coins will have no mintage cap in place.
Read more release information:
2012 Kookaburra Coins Announced – SilverCoinsToday.com
Additional information:
Kookaburra Silver Bullion Coins – Australian Silver Coins Information Page