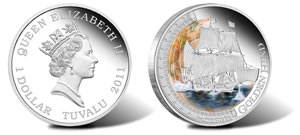 The Perth Mint of Australia released the 2011 Golden Hind Silver Proof Coin on August 2, 2011. This strike appears as the second release of the Perth's Ships That Changed the World series and is struck from one ounce of 99.9% pure silver. The coin is available directly from the Mint for AUS $97.27.
Shown on the reverse of the coin is a design by artist Tom Vaughan featuring the ship known as the Golden Hind. The Hind is set against a colored globe map as well as depicted afloat a blue hued ocean. Reverse inscriptions include "GOLDEN HIND" and "1 OZ 999 SILVER."
As legal tender of the island national of Tuvalu with a face value of one dollar, the strike contains a portrait of Queen Elizabeth II on the obverse. Inscriptions shown on the obverse include "QUEEN ELIZABETH," "TUVALU," "2011" and "1 DOLLAR."
Appearing before the Golden Hind Coin in the series was the Santa Maria Silver Proof Coin. Three more strikes are planned as part of the Ships That Changed the World series including coins depicting the Mayflower, the Constitution and the Cutty Sark.
All of the coins of the series are each struck from one ounce of .999 fine silver with a weight of 31.135 grams, a diameter of 40.60 mm and a thickness of 4.00 mm. Each strike is presented with a display case and also includes an illustrated shipper.
Read more release information:
Golden Hind Featured On Silver Proof Coin – SilverCoinsToday.com
Additional information:
Ships That Changed the World Silver Coins – Australian Silver Coins Information Page