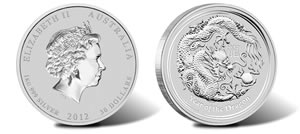 The Perth Mint of Australia has released most of the newest versions of its extremely popular lunar silver bullion coin series. Beginning on September 1, 2011, six different sizes of the 2012 Australian Year of the Dragon Lunar Silver Bullion Coins were issued including the 1 kilo, 10 ounce, 5 ounce, 2 ounce, 1 ounce and 1/2 ounce strikes. The associated 10 kilo coin will not make its initial appearance until November 14, 2011.
This series dates back to 1999 when the Perth Mint first issued the collection of coins linked to the twelve creatures of the Chinese Zodiac. The initial run was complemented in 2008 when the Lunar Series II debuted, the series in which these 2012 coins are considered a part of.
Each coin in the series is struck from .999 fine silver and contains a reverse design featuring the creature linked for the year to the Chinese Zodiac. For 2012, that creature is a dragon. An inscription of "YEAR OF THE DRAGON" and the Chinese character for dragon also appear on the reverse of each strike.
As official bullion products from the Perth, each coin is guaranteed for weight and fineness by the government of Australia. They are also struck as legal tender of the country with face values ranging from $300 down to $.50.
Read more release information:
Year of the Dragon Coins Released – SilverCoinsToday.com
Additional information:
Australian Lunar Silver Bullion Coins – Australian Silver Coins Information Page